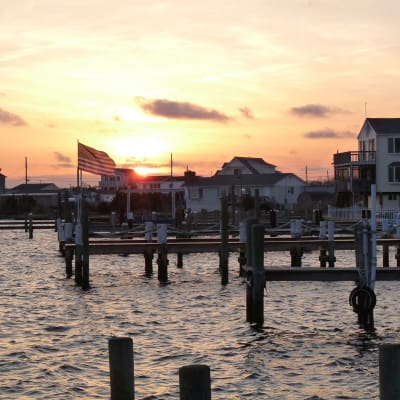 Tuckerton NJ Area Attractions
Perfect Jersey Shore Vacation Alternative Near Long Beach Island and Atlantic City
The Inn provides the perfect starting point for your day, whether traveling for business or enjoying a Jersey Shore vacation.
The Inn offers a wonderful alternative to Atlantic City lodging, located in the heart of historic Tuckerton, NJ, and it is within walking distance of the Tuckerton Seaport and Baymen's Museum, Lake Pohatcong, and Tip Seaman Park, a recreational facility maintained by Ocean County. The park contains picnic areas, playground and public tennis courts.
Within a five-minute drive of Tuckerton are two excellent golf courses: Sea Oaks and Atlantis.
This area is an excellent destination for bird watching. Bird watchers and naturalists alike can enjoy the sights and sounds of waterfowl and migrating birds while hiking in the wetlands that lie between the ocean and the New Jersey Pine Barrens.
Kayaking and canoeing along some of the East Coast's most scenic and mysterious rivers can provide serenity and true understanding of the meaning of "wilderness".
Tuckerton is home to several excellent marinas that provide charter fishing excursions, Eco-tours, ocean kayak rentals, boat rentals, and bait and tackle.
Other area attractions located within a short driving distance are:
Long Beach Island
Atlantic City
Barnegat Bay
Batsto Historic Village
The Noyes Art Museum
Edwin Forsythe Wildlife Refuge
Jacques Cousteau Wildlife Refuge
Bass River Forrest
Wharton State Forest
Historic Smithville Village
Lizzie Rose Music Room
STAC Stafford Arts Center
Stockton Performing Arts Center
Renault, Bellview, and Tomasello Wineries
Please visit our Locations page for more information about area attractions and activities.
Complimentary beach badges for Long Beach Island township beaches, chairs, and umbrellas are provided as a courtesy to our guests for all two or more night stays.
Enjoy a workout at nearby Retro Fitness for just $10 a day.